Tony Urquhart (1934-2022)
Posted on January 28, 2022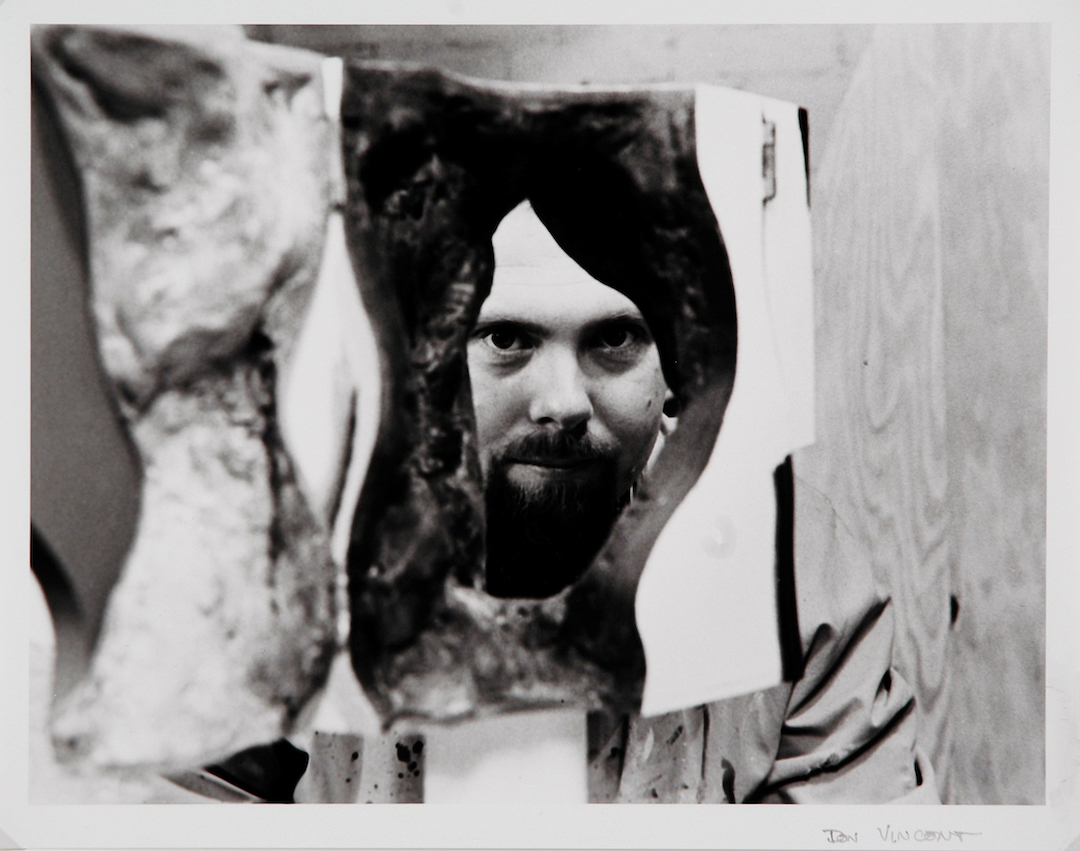 Don Vincent, Tony Urquhart, undated, selenium print on paper. Gift of Mrs. Bernice Vincent, London, ON, 1997
Museum London celebrates the life of artist Tony Urquhart, who died on January 26, 2022. Urquhart made groundbreaking contributions to the culture of this region and of Canada. 
Born in Niagara Falls, Ontario, Anthony Morse ("Tony") Urquhart first garnered acclaim for his innovative abstract paintings in the 1950s. After studies in the United States, he joined the renowned Isaacs Gallery in Toronto, exhibiting alongside such notable colleagues as Michael Snow, Joyce Wieland, and Graham Coughtry. In 1960 he became the first artist-in-residence at Western University here in London. Urquhart thereafter became full professor of Fine Art at the University of Waterloo, teaching drawing, painting and printmaking, and serving periodically as the head of the department from 1972 to 1999.  
Urquhart had a keen eye for colour and form. His artistic practice branched out to include sculpture, including his imaginative and instantly recognizable "box" series. Visible inside and out, these featured movable doors and flaps. They were unique in their exploration of varied materials and references to everything from geology to religious architecture.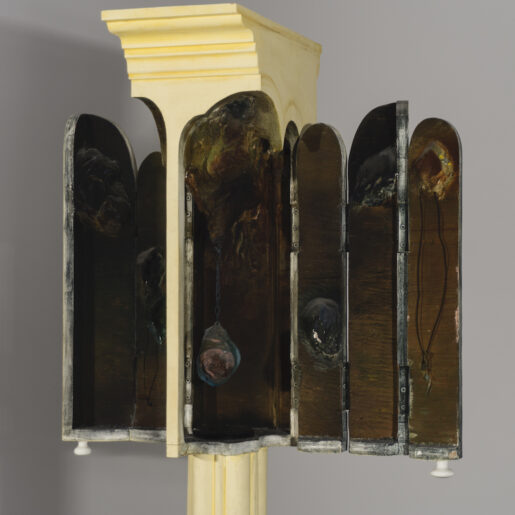 Tony Urquhart, Five Doors, 1971 (detail), mixed media. Gift of Judith and Wilson Rodger, London, Ontario, 2017
Outside of his own career, Urquhart recognized and supported the artists around him. Urquhart gave Greg Curnoe, Walter Redinger, Ed Zelenak, and John Boyle some of their first exhibition opportunities. And in 1968-69, he joined his friends in the National Gallery of Canada touring exhibition, The Heart of London, which helped set the definition of the creative impulse known as London Regionalism. 
Urquhart also broadened his advocacy to a national scale. Shortly after the late Jack Chambers created CARFAC (Canadian Artists' Representation/Le Front des artistes canadiens), he and fellow artist Kim Ondaatje negotiated with artists and organizations to establish a fee structure that remains a crucial support to artists today.      
For decades Urquhart produced sketches, paintings, and three-dimensional works which have been popular with both critics and audiences. He consistently exhibited his works nationally and internationally. And he has long been important to us: In 1970, the London Regional Art Gallery (now Museum London) developed Urquhart's first retrospective while the artist was still in his thirties. In 2002, Museum London and the Art Gallery of Newfoundland and Labrador toured the exhibition Power of Invention: Drawings from Seven Decades by Tony Urquhart to venues that again included the National Gallery of Canada (NGC). Other important exhibitions he participated in include 1993's benchmark NGC project, The Crisis of Abstraction in Canada.  
Urquhart's art can be found in the collections of most major Canadian public art galleries and museums. Museum London owns over 100 works; the most recent acquisition, a box sculpture entitled Five Doors (1971) is on display in our permanent exhibition Taking the Long View. He has also donated important pieces by other Canadian artists. 
Tony Urquhart was awarded the Order of Canada in 1995. In 2009, he and Kim Ondaatje won the Governor General's Award in Visual and Media Arts, CARFAC Outstanding Contribution Award.