New Community Exhibition Celebrating Londoners' Resilience
Posted on December 8, 2022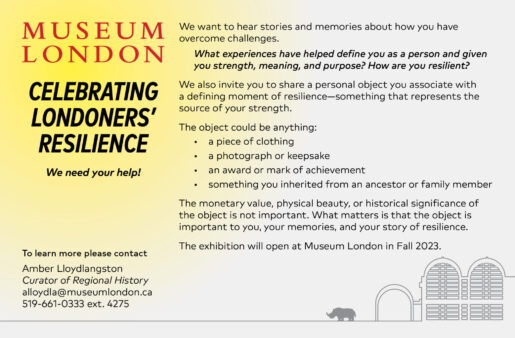 Through their own words and with their own mementos and belongings, Londoners will inspire, uplift, and help each other! The exhibition will take place in the fall of 2023 and we're looking to include your stories. 
Deadline: January 20, 2023
We want to show how strong Londoners are in our upcoming community exhibition "Resilient Londoners". We will be highlighting the stories of some 75 or more Londoners, including those who have been historically underrepresented at the Museum — the folks whose stories you may not have heard but who have a lot of lived experience with resilience. We will be giving these stories the room they deserve in our largest gallery in the fall of 2023, and we're looking for community participants to join the exhibition. Now's your chance to share with the world how you've overcome a hardship in your life, or achieved something important to you, big or small, or what it is that gives you strength and purpose. Share your story of resilience and have it be included as part of London's history. 
We also invite you to share a personal object you associate with a defining moment of resilience — something that represents the source of your strength. This object could be anything: 
A piece of clothing
A photograph or keepsake
An award or mark of achievement
Something you inherited from an ancestor or family member
The monetary value, physical beauty, or historical significance of the object is not important. What matters is that the object is important to you, your memories, and your story of resilience.  If you're interested, please share your story with our Curator of Regional History, Amber Lloydlangston at alloydla@museumlondon.ca , 519-661-0333 x4275 by January 20, 2023.