Sparrow Night: Artists Working with Light
May 6 to August 27, 2017
"Sparrow night" is a term from folklore that describes a night storm featuring intense sheet lightning. The exhibition name sets off a trimester of programming focussing on the senses. Sparrow Night features two- and three-dimensional light-based works, including experimental painting, projections, kinetic installations, interactive sculptures, and innovative textiles and design.  

The depiction of light has always been central in representational art. Sculptors have always considered the play of sun and shadow in relation to their three-dimensional forms. Spurred by scientific studies of colour and light and the growth of artificial illumination, for a century now many artists have regarded light itself as a main focus.
Certain selected works juxtapose physics with aesthetics. In Daniel Hutchinson's Painting for Coloured Light series (2012-13) he references traditions of painting, blending the intellectual, seemingly austere forms of geometric abstraction with more sensual impasto brushstrokes. He explores optical effects such as iridescence and fluorescence by illuminating seemingly monochrome canvases with special lights. Interactive apparel by Montreal designer Ying Gao is also activated by light. Dresses of "super organza" and electronic sensors react to light exposure, setting the fabric in motion.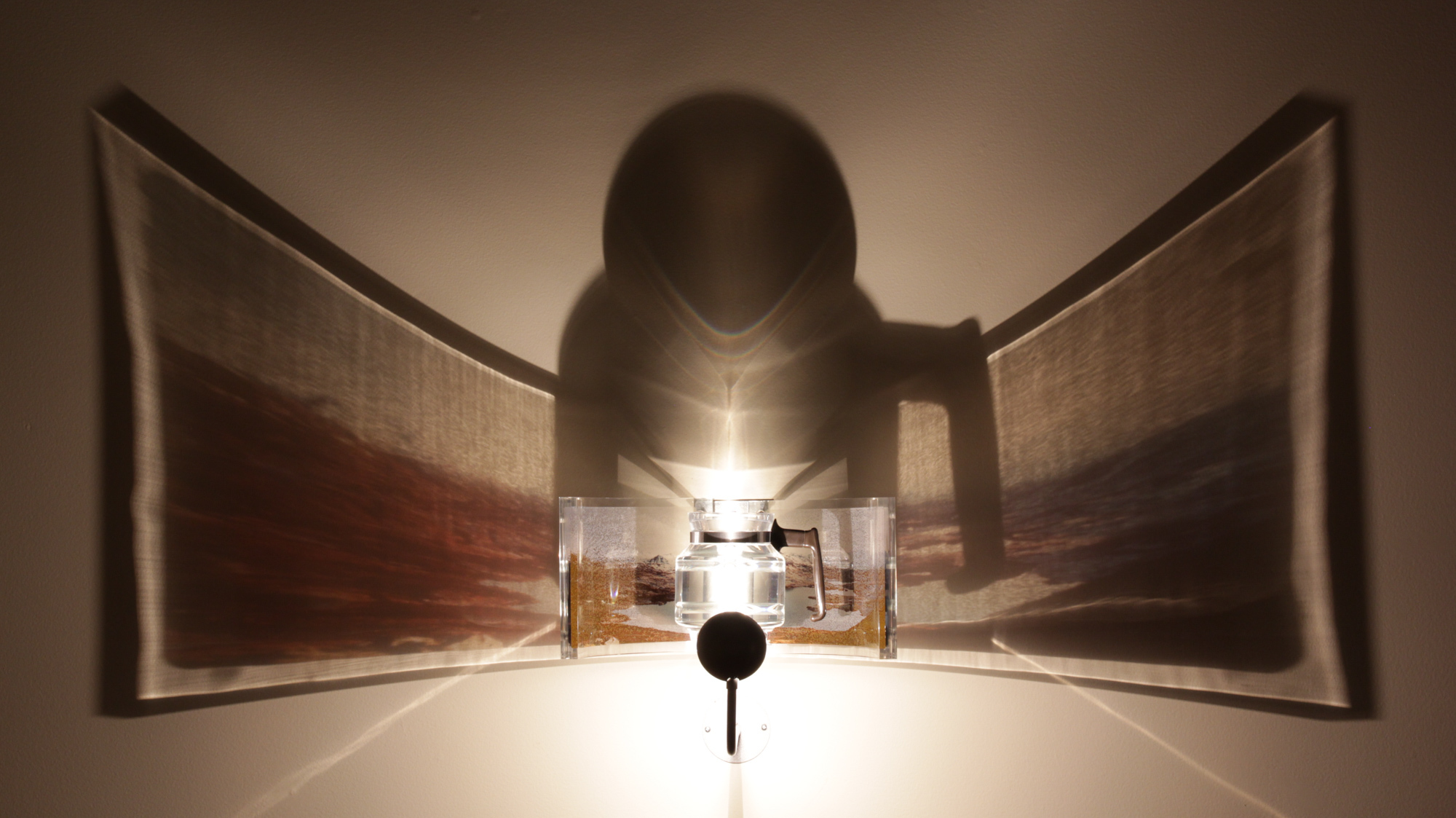 Diane Landry, Gisant d'Écosse / Recumbent from Scotland, 1992-93, photographic acetate, acrylic, steel, halogen lamp, Collection of the Musée national des beaux-arts du Québec; Purchase, 1998. Image Courtesy the artist
Kathleen Ritter's 2002 projection Boom! also examines painting traditions, namely landscape. Far from providing a conventional view, she presents a nocturne lit solely by firecrackers, providing only short, intermittent glimpses. She further disturbs ideas of representation, artistic mediation, and the museum setting by allowing viewers to cast their shadows onto her panorama.
Ritter's work stresses the importance of light in the relatively new fields of photography, film and video. Technology encourages new ways of experiencing form and narrative, as is evidenced by Charlie Egleston's SEE/SAW (2010). SEE/SAW exploits a visual device, a type of transition between scenes known as an "iris fade," that focusses and pulls back from a range of establishing shots.
The use of slow-motion, shadowgraphic imagery elaborates feelings of spirituality in Ken Matsubara's video projection Hou-chou (2016). Similar to the custom of releasing doves as a symbol of peace, Hou-chou is a Buddhist ritual that celebrates compassion by freeing captive sparrows. Light and movement is also central to the practice of Diane Landry. Her Mandala series (2002) responds to our unique architecture, propelling shifting visions of kaleidoscopic colour and line along walls. Nearby, David Bobier has made sculptural instruments involving small projections that display hand-cranked forms based on the Braille system. 
The enjoyment of glowing, translucent shapes in candy colours informs several of Lisa Neighbour's works, such as Necklace (2005) and Money (2007). In jewel-like sequences of bulbs and other glowing, hollow objects, the artist crafts consumer goods such as toys and décor accents into contemporary symbolic messages. This irreverent impulse is shared by Reuel Dechene, who produces comic, Las Vegas-style combinations of business signs, car parts and holidays lights.
Top: Daniel Hutchinson, Painting For Coloured Light (Cyan and Magenta), 2012-13 (detail), oil on canvas with fluorescent light and wood, Collection of the artist. Image Courtesy the artist