Robert Fones: Signs | Forms | Narratives
September 9 to December 10, 2017
Since the late 1960s, Governor-General's Award-winning artist Robert Fones has built a practice that has included drawing, painting, printmaking, artist's books, poetry, creative writing, and art criticism. A pioneer in Canadian conceptual art, his work investigates ideas of time and identity—geographical, societal, and technological. At first glance, his striking works are simple, in some cases even austere. Yet each layers complex visual information that speaks to the ways in which we live together in the world, and change, represent, and understand it.

 Signs │Forms │Narratives surveys Fones' creative production, including works that have been specially conserved for this occasion. It includes early pieces imbued with the humorous bite of Pop and Dadaism prevalent in the Regionalist impulses of Fones' native London, Ontario; ground-breaking conceptual works of the 1970s and 80s, such as House Viruses, Butter Models, and Insert/Press/Deposit, which exemplify his meticulously-researched, almost archaeological approach; and a range of his ongoing destabilizations of forms of communication and representation.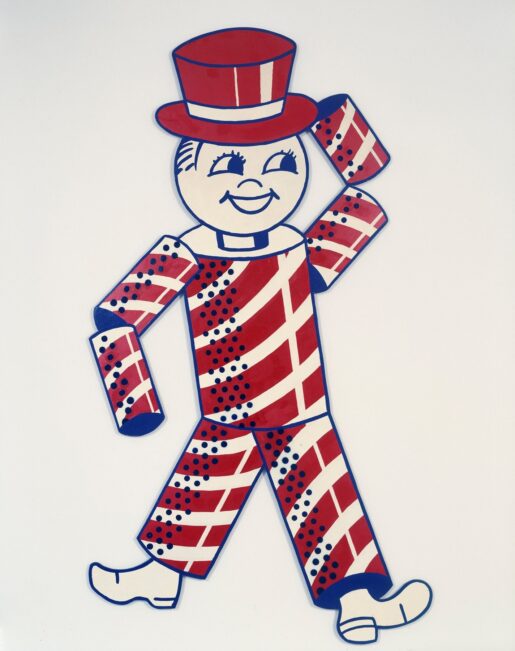 Can.D.Man, 1971, enamel on hardboard, Art Gallery of Ontario, Toronto. Gift of Elke Town, 2014, 2014/379
In his work, Fones repurposes and re-presents shared symbols and chronologies. Of particular significance is his comprehensive examination of written language and its contexts, on both personal and "mass-media" scales. In recent years, Fones' explorations have considered the import of specific narratives, from philosopher Thomas Hobbes' 1651 book Leviathan, to the chronicles of polar explorers.
This exhibition involves many works drawn from the artist's collection, and Museum London staff could not have realized this project without the steadfast enthusiasm of Robert Fones. Many important works have been selected from the vaults of Museum London, and from the McIntosh Gallery at Western University, Art Gallery of Ontario, National Gallery of Canada, Canada Council Art Bank, Agnes Etherington Art Centre, and Oakville Galleries. We also thank the many private collectors who have contributed their works to this project. To document and further discuss the exhibition, a retrospective catalogue will be released in late fall 2017.
Museum London wishes to thank the Museums Assistance Program of the Department of Canadian Heritage for their vigorous support of this project. We are grateful to the Access to Heritage component in allowing the realization of Signs │Forms │Narratives.
---

This project has been made possible in part by the Government of Canada.

Image: Shackleton died, 2014, oil on canvas. Collection of the artist / Olga Korper Gallery