The Desire to Acquire: London Collects
September 3 to January 8, 2017
This exhibition highlights rare, distinctive, and intriguing artworks acquired by collectors in the city of London, Ontario. Paintings, works on paper, sculpture, and more, attest to the cultural and historical significance of artwork embraced and maintained by our community's art aficionados. These include longstanding, intergenerational compilations, the inspired efforts of those newer to the practice, and institutional collections. All are motivated by the ingenuity of art, and its changing roles, content, and character.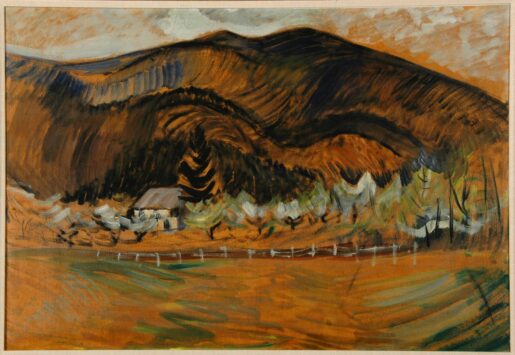 Emily Carr, Mountains and Houses, Pemberton, B.C., 1933. oil on canvas. Collection of Museum London, Gift of Jim and Melinda Copp Harrison, Oakville, 2007
The Desire to Acquire includes almost two hundred pieces that represent landmarks in both historical and contemporary Canadian culture. Selections range from works by nineteenth-century London artists to the Group of Seven, Painters Eleven, and Quebec abstractionists, to the London Regionalists and nationally regarded contemporary painters. Taken together, the works reflect the tastes, concerns, and talent of our citizens, the national importance of private and corporate collections in our area, and, more generally, the central role collectors play in the art world. Public collections, including that of Museum London, were built on the generosity of donors. The history of investing in art speaks much about our society and the economy.
The exhibition is co-curated by Museum London's Curator of Art, Cassandra Getty, and, former Art Registrar, Barry Fair, and will be accompanied by an illustrated publication.
Cover: Lawren Harris (Canadian, 1885-1970) Lake Agnes above Lake Louise, Rocky Mountains, 1960, oil on canvas. Gift of Mr. and Mrs. John H. Moore, London, Ontario through the Ontario Heritage Foundation, 1978