80ML
May 3 to December 31, 2021
Museum London opened its doors 80 years ago. To mark this anniversary, the Museum is launching an online exhibition. 80ML pairs 80 objects from the permanent collection--40 works of art and 40 historical artifacts--with written responses from 80 Londoners, who bring a fresh perspective to the Museum's artistic and historical holdings. 
Traditionally, museum anniversary exhibitions highlight the most prominent and popular objects from the collection. 80ML is a little different. Museum London, working in consultation with the community, began by reaching out to 80 people who reflect our city's diverse population. The exhibition's contents were then chosen with these people in mind, each matching the knowledge, commitments, experience, and interests of a respondent. 
People will still see some of Museum London's most familiar and best loved artworks and objects--whether paintings by Paul Peel and Greg Curnoe, an 1830s ball and chain from the Middlesex County Jail, or a 1930s Spartan Radio. However, online visitors will have an opportunity to gain a new, unexpected, and fuller understanding of these objects through the knowledgeable insights and creative interpretations of community members.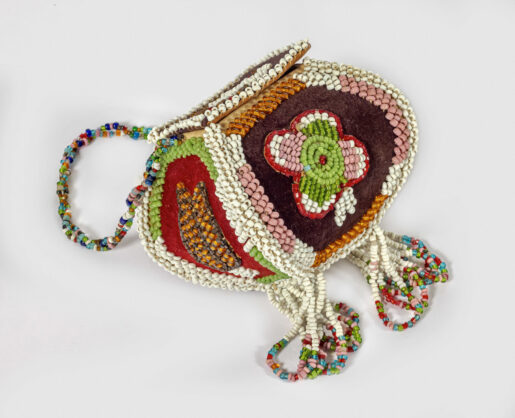 Top:Doug Mitchell, Heartland, oil on masonite, 1978. Gift of Mr. and Mrs. John H. Moore, London, Ontario, in memory of Alex Graydon, 1987
Bottom: Beaded Purse, various materials, about 1950. Gift of Dora Sparling, Lambeth, 1962
Museum London extends sincere thanks to all 80ML respondents: 
Dr. Gavin Anderson, Microbiologist, President and Brewmaster, Anderson Craft Ales
Dr. Michael Anderson, Rotman Canada Research Chair in Philosophy of Science, Western University
Shaikh Aarij Anwer, Interim Imam and Islamic Education Coordinator, London Muslim Mosque
Julie Atchison, Meteorologist, CTV London
Mike Baker, Curator, Elgin County Museum
Joe Belanger, Journalist, London Free Press 
Kerry Ssemugenyi and Zion Bekele, Business Owners, See Collective
Karen Bellehumeur, Lawyer and Co-Vice Board Chair, Anova
Kary Black, Associate Art Director, Digital Extremes
Evond Blake, Mural Artist
Bill Brady, Journalist and Radio Host
Mercedes and Alfredo Caxaj, Co-Artistic Directors, Sunfest
Cleveland Brownlee, Athlete, London Majors
Dr. Janet Collins, London Chapter President, Congress of Black Women of Canada
Jeremy Copeland, Journalist and Graduate Program Chair, Master of Media in Journalism and Communication, Western University
Tom Cull, London Poet Laureate
Peter Devlin, President, Fanshawe College
Jason Dickson and Vanessa Brown, Writers and Business Owners, Brown and Dickson Bookstore
Emma Donoghue, Author
Jeanette Dutot, Executive Director, Hutton House
Bill Exley, Founding Member, Nihilist Spasm Band
Eaman Fahmy, Community Organizer and Inclusive Program Designer, Pillar Nonprofit Network
Andrew Fleet, Executive Director, Growing Chefs
Marc Forrat, Chocolatier and Business Owner, Forrat's Chocolates
Dennis Garnhum, Artistic Director, Grand Theatre
Lori Hamer, Chief, London Fire Department
Dr. Michelle Hamilton, Director of Public History & Associate Professor, Western University
Hyacinth Henry, Hair Stylist and Business Owner, Glamorous Touch 
Leroy Hibbert, Multicultural Outreach Coordinator at LUSO Community Services
Ed Holder, Mayor, City of London
Richard W. Ivey, Businessperson, Philanthropist, Chairman of Ivest Properties Ltd.
Jessica Jazey-Spoelstra, Chef and Business Owner, North Moore Catering
Kadeem Jenkins, Poet and Musician
Arielle Kayabaga, Councillor, City of London
Terence Kernaghan, MPP, London North Centre
Penn Kemp, Author and Poet
Lorraine Klassen, Musician
Josh Lambier, Artistic Director of the Words Festival and the Director of the Public Humanities at Western University
Bryan Lavery, Food Writer, Restaurateur and Business Owner, Lavery Culinary Group
Simone Luti, Musician and Music Director and Conductor of both Western University's Symphony Orchestra and Opera Program
Dr. Chris Mackie, Medical Officer of Health and CEO for the Middlesex London Health Unit
Casper Marcus, Hip Hop Artist
Nidia Martinez, Professor of Fashion Design, Fanshawe College
Dr. Vivian McAlister, Surgeon, University Hospital London
George McAuley, Musician and Mathematics Teacher, Catholic Central High School 
Reverend Dr. Stephen McClatchie, Professor, Department of Theology, Huron University College
Arthur McClelland, Librarian, London Room, London Public Library
Dr. Mhairi McFarlane, Director of Science and Stewardship, Nature Conservancy of Canada
Chris McKaskell, Woodworker, Furniture Designer and Business Co-Owner, McKaskell Haindl Design Build
Jason McLean, Artist
Dr. Carolyn McLeod, Chair, Department of Philosophy, Western University
Amanda Myers, Director of Indigenous Services, Western University
John Nicholson, Architect, Founding Principal, Nicholson Sheffield Architects 
Dr. Abe Oudshoorn, Registered Nurse and Assistant Professor, Arthur Labatt Family School of Nursing, Western University
Dr. Thomas Peace, Assistant Professor, Department of History, Huron University College
Nancy Poole, Art Dealer and Director of Museum London (1985-1995)
D'Wayne Price, Staff Sergeant, London Police Service
Dr. Bimadoshka (Annya) Pucan, Senior Policy Advisor, Thunderbird Partnership Foundation
James S. Reaney, Journalist, London Free Press
Andrew Rosser, LGBTQ2 Advocate and President, London Pride Festival (2011-2020)
Jenna Rose Sands, Artist
Roland Schubert, Photographer and Business Owner, Colour by Schubert
Dr. Alan Shepard, President, Western University
Dan and Mary-Lou Smoke, Indigenous Elders and Radio Hosts
Chris Snedden, Artist and Director of Artistic Programming, London Clay Art Centre
Savanah Sewell, Community Organizer
Dr. Sukhera Javeed, Psychiatrist and Chair, London Police Services Board
Susan Toth, Partner, Polishuk Camman & Steele Law Firm
Chris dela Torre, Radio Host, CBC
Harold Usher, Engineer, Author, and Councillor, City of London (2000-2018)
David and Winifred Wake, Naturalists
Jennifer Wenn, LGBTQ2 Advocate and Poet
Dr. Natascha Wesch, Sports Psychologist and Athlete
Lyla Wheeler, Community Activist 
Leslee White-Eye, Consultant, Educator, Chief of the Chippewas of the Thames First Nation (2015-2017)
Anthea WIlliams, QTIPOC Activist
Ailene Wittstein, Community Advocate
Justin and Gregg Wolfe, Restaurateurs and Business Owners 
Jim Yanchula, Manager of Downtown Projects and Business Relations, City of London
Matt Zubick, Manager, John Zubick Ltd.
---
Press
Museum London taps 80 Londoners to celebrate its 80th anniversary - London Free Press
80 Londoners help mark Museum London's 80th anniversary - Global News CFPL 980
Museum London marks 80th anniversary with virtual exhibit pairing people with artifacts - CBC London