Tom Benner (1950-2022)
Posted on September 23, 2022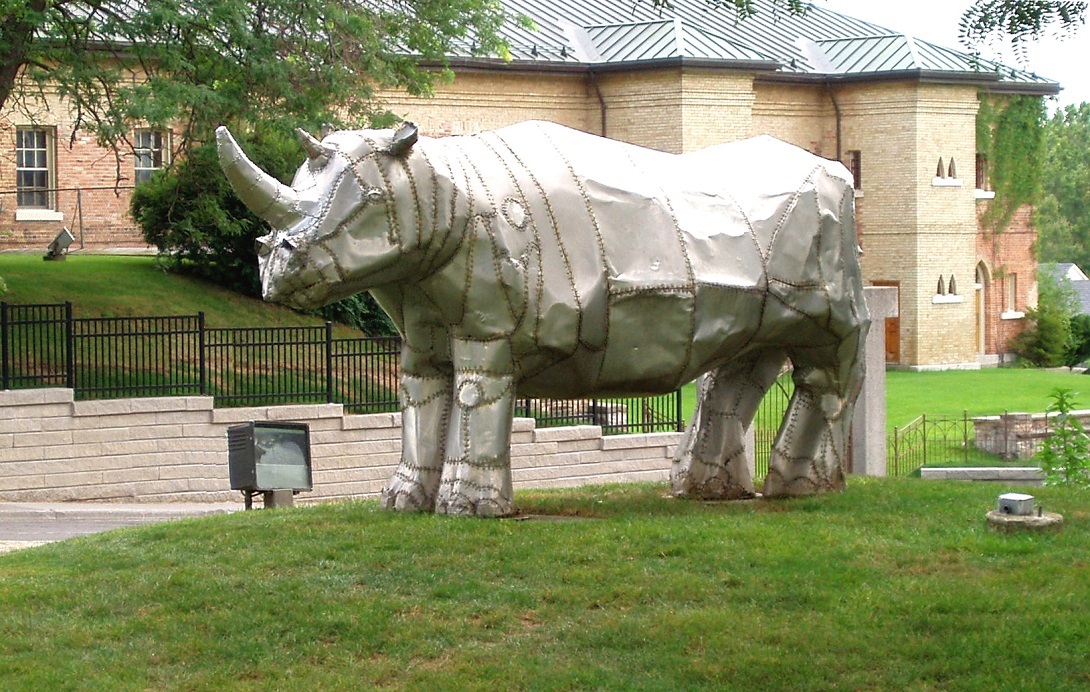 Tom Benner, White Rhino, 1985. Collection of Museum London
It is with sadness that we report the death of well-known London artist Tom Benner.
Benner delighted in exuberant form and used a broad array of materials to expand upon issues of the environment, history, and place. His art—sculptures, prints, and paintings—referenced his hometown of London, and ecologically important areas in the region such as Point Pelee. His scope and renown, however, travelled far beyond.
In his practice Benner engaged with Canadian identity, celebrated nature, and indicted humanity's destruction of the wilderness. For over four decades he asserted himself on the Canadian art scene by creating large-scale sculptures of animals, trees, ice formations, and much more. Many featured his unique, immediately recognizable process of transforming rivetted, cold-rolled metal into orcas, birds, bison, and even the moon. Through them Benner delighted and educated viewers about whale hunting, the natural splendour of this area such as the Coves, and of natural migrations of pollinators including butterflies and birds. From a 1980s project entitled A Response came Museum London's famous White Rhino (1986). The aluminum-clad rhino has served as our symbol since it first stood watch on our front lawn in 1987.
Over his career Benner exhibited across Canada and in the United States. At Museum London his work was featured in four solo exhibitions and many group exhibitions, including for Canada's Sesquicentennial in 2017. Our vaults house nine works acquired over the decades. The popular touring retrospective, Call of the Wild, launched at Museum London in 2011 and toured to the Thunder Bay Art Gallery, Tom Thomson Art Gallery, the Art Gallery of Sudbury, Confederation Centre Art Gallery in Charlottetown, PEI, and the Grenfell Art Gallery in Corner Brook, Newfoundland. Benner's work is also in the collections of the McIntosh Gallery, Western University; the Woodstock Art Gallery; The Norfolk Arts Centre, Brantford; Art Windsor Essex; the Art Gallery of Guelph; the Art Gallery of Mississauga; the Art Gallery of Ontario in Toronto; and the Canada Council Art Bank.