Thank you volunteers!
Posted on April 27, 2022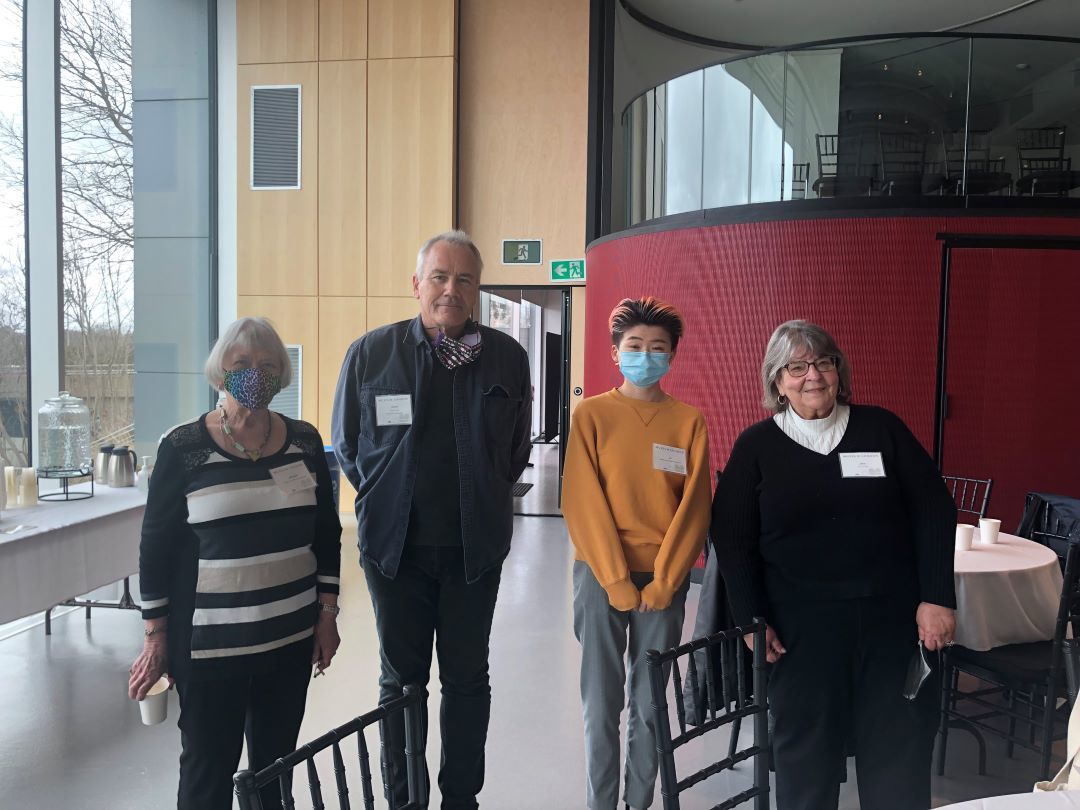 From L to R: Virginia Hannay, John Sutton, Zhengyi (Jo) Jin, Jane Eberhard
Our Volunteers Are Here For You, and Each Other
At Museum London, we have a variety of volunteer roles – some bring volunteers in for regular shifts, others are more flexible. Our Exhibition Attendant position is one where volunteers are needed to commit to a regular shift, once per week at least. Throughout the pandemic, predictability has been scarce, but also very valued, instilling a sense of routine when life has been hard to plan.
With our past exhibition Gardenship and State in 2021 and our current exhibition, From Remote Stars running until May 15, our small crew of Exhibition Attendants have shown great commitment and passion for their role, the Museum, our community, and each other. Having this dedicated team of volunteers fill in for each other when needed has greatly enhanced the visitor experience in the Museum by providing answers to questions about the exhibitions and assisting with interactive activities as needed.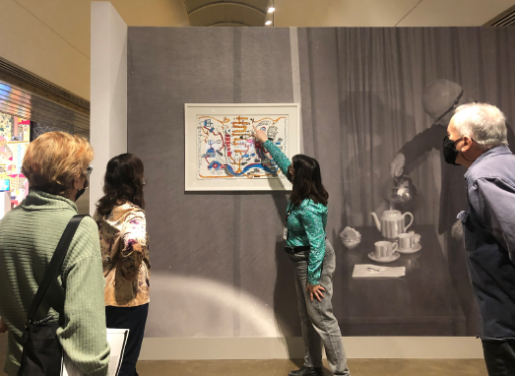 Pictured above, Exhibition Attendants Della, John and Maria participate in training for the From Remote Stars exhibition, on until May 15.
"I am always looking to do more at the Museum. I feel I have been able to extend my love of art to the people who visit the Museum. I enjoy talking to people that come to the Museum and I have met people from all over the world. Another great thing about volunteering is meeting other volunteers and making friends with them. As Attendants, we work as a team and help each other out by filling in for shifts and learning from each other. I am hoping to be a volunteer at the Museum for a very long time."
- Della Morton
"I have to admit that my favourite experience came from a visitor who had a question about a piece of artwork in another part of Museum London. He honestly had to ask why that particular piece was considered "art". I always wondered when I would get that question and now that it had happened, I had to come up with some sort of answer. I think many visitors wonder that exact same question but don't have the courage to ask it out loud. And that is the value of the Exhibition Attendant; to be there and to respond, directly and in-person, to any questions visitors may have."
- John Sutton
"Volunteering as an Exhibition Attendant for Museum London doesn't feel like work, it feels natural. Having a background in Art and Design, I feel comfortable in my skin here. With each new exhibition, I get a chance to learn more about our vibrant artistic community and cultural heritage. Last year, in the Gardenship and State exhibition, I truly enjoyed letting visitors know about the interactive pieces, which would have otherwise gone unnoticed. And who can forget my fellow volunteers, with whom I now share a mutual bond of friendship, trust, and respect. In fact, this role has given valuable purpose to my career, for which I am forever grateful."
- Maria Qureshi
Pictured above, Exhibition Attendants Della, John, and Maria pose at the title wall of From Remote Stars.
Thank you to Sarah, Michael and Heather who were Exhibition Attendants in 2021 and to Della, John and Maria who continue this role for our new exhibition, From Remote Stars. If you'd like to say hello to our volunteers in this role, feel free to visit the Museum Thursday – Sunday from 11:00 a.m. – 5:00 p.m. to learn more about the role and thank them for their time!
Jordan Brennan, Volunteer Services & Assistant Events Coordinator