Happy International Museum Day!
Posted on May 18, 2022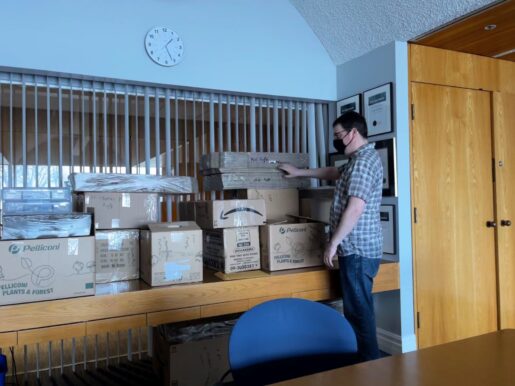 This year's theme is "The Power of Museums" with a focus on the power of community building through education. So it makes sense to highlight our colleague Devon Elliott who does just that! He's one of the newest additions to the team here and his official title is Curator of Education. His work involves bringing our art and history collections to life in ways that allows Londoners to learn more about the Museum's collections.

Pictured here with Devon are a few of the boxes for the Making Art Creating Community (MACC) program sponsored by Canada Life. In this program, Métis artist/educator Brenda Collins will be joining classes remotely (planned in the fall of 2021) as students work on individual and collective artwork, followed by a virtual tour of Museum London by our tour guides. The boxes are filled with supplies which are being delivered to 12 classes (twice as many as last year!) in the London District Catholic School Board and the Thames Valley District School Board. This program has been running since 2003 and we're grateful to everyone involved and the support received from Canada Life. Thanks to Devon for bringing our art and history back out into the community in a meaningful way!