Eric Atkinson, 1928-2022
Posted on July 20, 2022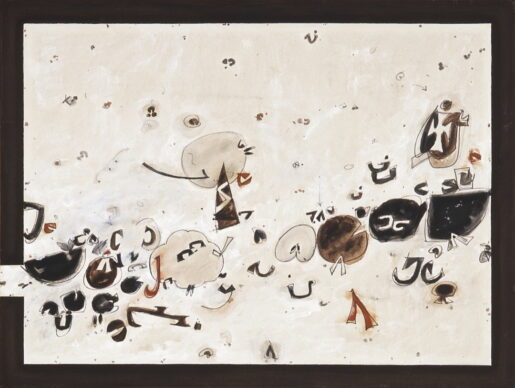 Eric Atkinson, Synergy II, 1978, acrylic on canvas. Gift of John Labatt Limited, London, ON 1993
It is with great sadness that we mark the passing of influential artist and educator Eric Atkinson at the age of 93. Born in Hartlepool, Durham, England, Atkinson immigrated to Canada in 1969, becoming the first Chairman of the Fine Art Program at Fanshawe College. He then took on the role of Dean, Faculty of Applied Arts until 1982, and then of Professor until his retirement in 1994. Atkinson continued his art practice for many years afterwards. He is survived by his family including Muriel, an accomplished designer and his wife of 69 years.
Atkinson began his teaching career at the Leeds College of Art (1964–69). "Ricky" as he was known contributed to making the Leeds program one of the most innovative of the postwar period. Here he met Herb Ariss and John O'Henley, two London, Ontario artists who visited the College on an exploratory tour. As journalist Nida Home Doherty explains, Atkinson never thought he would encounter them again. Yet in 1968 Mackie Cryderman—herself an artist crucial to the development of arts education in this city—visited an exhibition Atkinson had developed at the Corcoran Gallery in Washington DC. Fanshawe College soon recruited him.
In addition to the Regionalist impulse thriving in the London area, Atkinson introduced generations of students, artists, culture workers, and collectors to the influences of European art and design. He shared his own influences which ranged from Kurt Schwitters to Henry Moore, Ben Nicholson, Graham Sutherland, Henry Rushbury, and many more. In addition to directing Fanshawe's fine art program, Atkinson was instrumental in establishing programs for industrial design, filmmaking, and music industry arts. Publishers Ashgate/Routledge evidenced his talent by releasing The Incomplete Circle: Eric Atkinson, Art and Education in 2000.
Atkinson expanded his English aesthetic sensibilities with the vastness of Ontario's landscape. Museum London owns 26 of his works spanning a 65-year period. These include views of northern England, and his adopted surroundings of Lake Huron and Niagara Falls. His imaginative use of mixed media and collage resulted in highly stylized imagery. His exploration of landforms and symbols often veered into almost complete abstraction.