Thanks to everyone who supported UPwithART 2.0!
Posted on June 5, 2020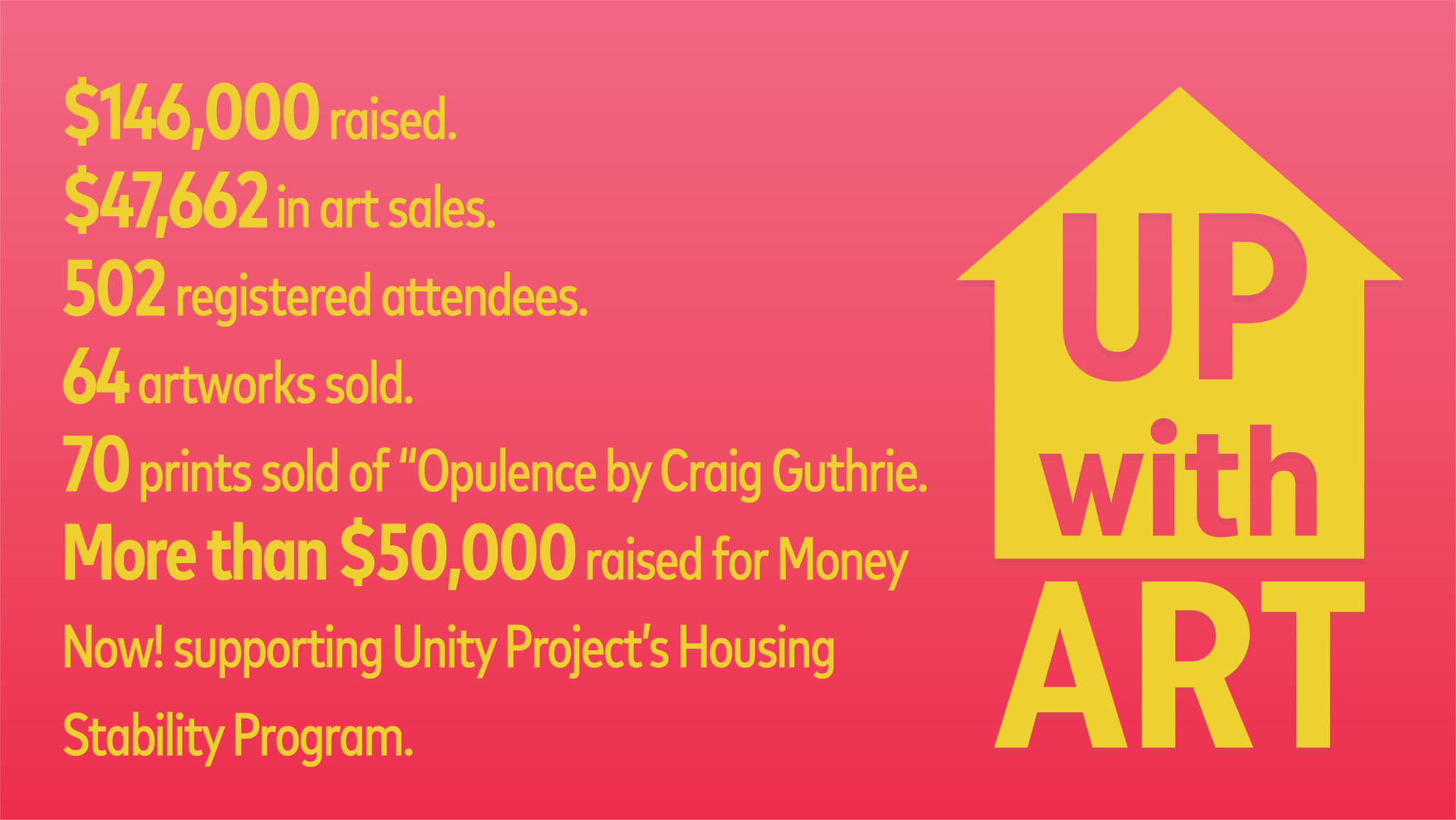 From Sunday, May 24 to Saturday, May 30, UPwithART 2.0 took place online (due to the physical distancing restrictions) instead of our usual 500 person party at the Museum. We want to say thanks to everyone who virtually attended and because of you, UPwithART 2.0 raised $146K that will go directly towards Unity Project's housing stability program and Museum London's children's programming! We are (almost) speechless at the fact that even during this difficult time, we ended up only $2K shy of last year's grand total. This is beyond our dreamiest expectations, and we are all so thankful that you chose to be a part of UPwithART despite the pandemic and our "change in venue". At first, we were unsure of how our online fundraiser (as we understand, the first large online fundraiser in London since the quarantine took effect) would be received, and as the days progressed, we were overwhelmed by such a strong showing of community support. 
Don't just take our word for it, take a look at these numbers:
$146,000 raised (net estimate)
502 registered attendees
64 works of art sold in the online auction (pickup info below)
$47,662 raised from the online art auction 
$50,450 raised from "Money Now"
70 prints sold of Opulence by Craig Guthrie. We've also extended the purchase date to Saturday, June 6 for those that missed out (pickup info below)
202 viewers of our online Art & Activism panel discussion
This year would not have been possible without the support of our sponsors and community partners, especially our Diamond Sponsor -  Van Simpson Portfolio Management. Please take a moment to look at these organizations that unflinchingly supported us from the starting block to the finish line.  
This was also UPwithART's 10th anniversary and even after a decade, we are committed to improving and adapting our fundraiser. Help us out by taking this short three-minute survey about your experience to make next year's fundraiser even better. 
Lastly, we want to thank everyone not only for their financial support, but also for the goodwill put back into the community, the trust in both of our organizations, and willingness to make London better for future generations and marginalized communities. Stay safe and we hope to see you next year!    
-The UPwithART committee 
P.S. 
CURBSIDE PICKUP – GET YOUR ART PURCHASES
Sunday, June 14 and Monday, June 15 from 1:00 pm to 4:00 pm
If you purchased art, Silvia Langer will be in touch soon with specific details. General info for art pick up is to pull up to the loading dock doors (click for image) at the north side of Museum London on Queens Ave. Please have your Auctria e-mail receipt ready for proof of purchase, either printed or on your phone. If you have questions about art pick-up, billing, etc., please contact Silvia Langer, slanger@unityproject.ca.