The Artifact That Vanished and Its Rediscovery
Posted on November 7, 2018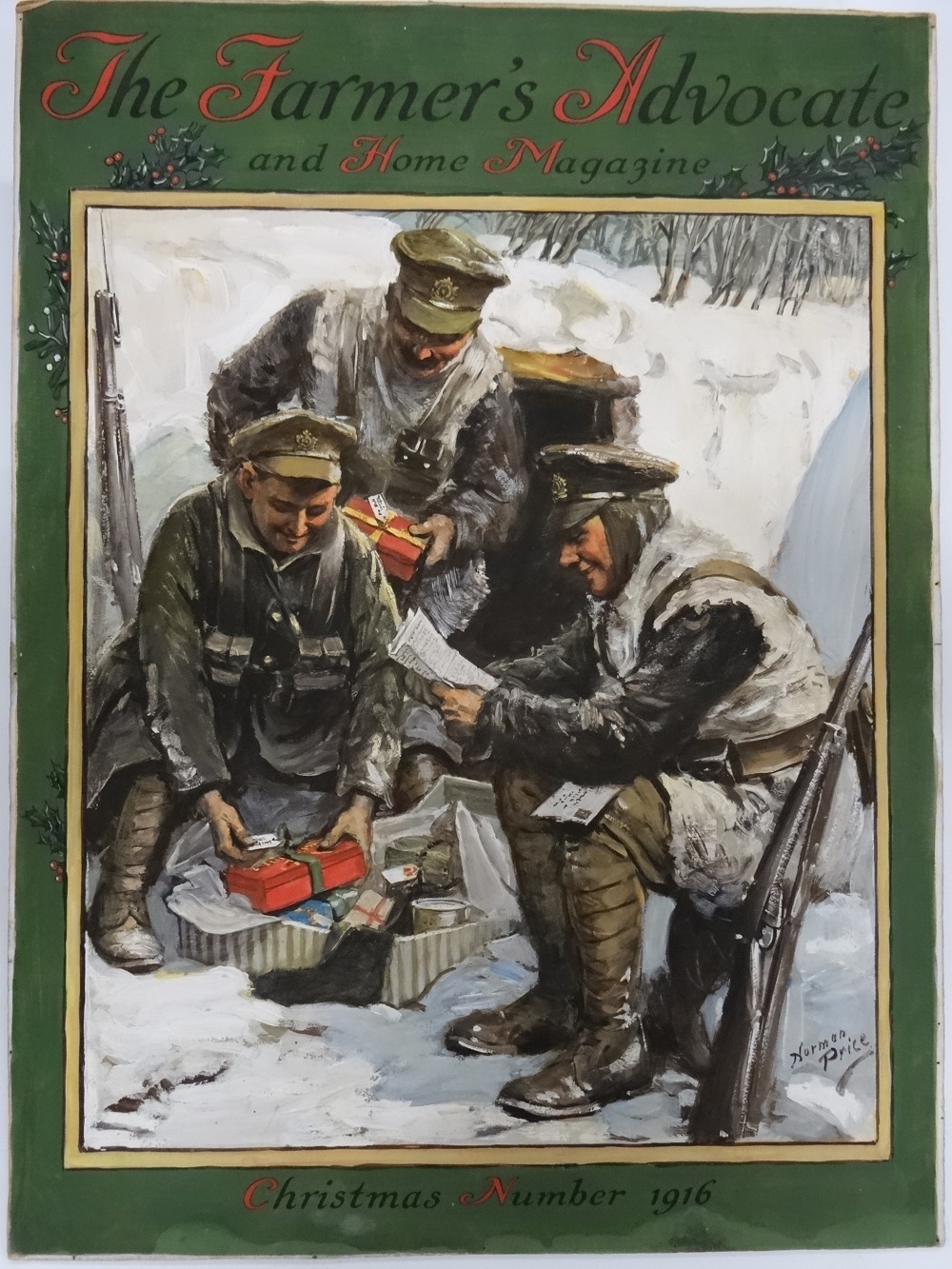 Original Cover Art, Farmers' Advocate, Christmas 1916
Norman Mills Price (1877-1951)
1993.050.001
Museum London's Curator of Regional History, Amber Lloydlangston, strikes again with another great read!
This is the story of a vanished artifact and its rediscovery. This is Norman Mills Price original cover art for the Christmas 1916 edition of the Farmer's Advocate, published in London, Ontario, from 1866 to 1965. It entered Museum London's collection in 1993 and then some years later, for all intents and purposes, ceased to exist. It had not received an entry in the museum's searchable electronic database. It was as if the piece had never been. Only a methodical search through the museum's hundreds of paper records alerted me to its existence and persistent digging through the museum's collections uncovered its location. What a happy moment when curator met artifact in the flesh! But that flush of victory accounted for only a fraction of my satisfaction. Read on!
I was thrilled also because the work is lovely. It is a fascinating study of three Canadian First World War (1914-1918) soldiers gloating over a box of Christmas treats from loved ones. Clearly for home consumption, this image is an idealized view of the experience of Canadian soldiers in winter at the front. It supports the call within the magazine itself for family and friends in Canada to make sacrifices so that they could send comforts to the troops.
There was yet another reason for my pleasure. As soon as I realized that this work existed in the collection, I researched Norman Mills Price. I found that this Canadian-born illustrator had been celebrated in his own time for his artistry and meticulous accuracy in capturing the details of costume, accessories, and surroundings in his works. And yet I had never heard his name. Prior to my encounter with the paper record for this piece, I knew of only one artist and illustrator named "Norman" and that was American Norman Rockwell (1894-1978)!
As a boy growing up in Brampton, Ontario, Price was torn between becoming a carpenter, a professional musician, or an artist. Following his father's advice, he chose to become an artist. In 1896, while studying at Toronto's Central Ontario School of Art and Industrial Design, Price found work at Grip Limited. In this design and lithography firm, which later employed members of the Group of Seven, Price developed his talents. By 1902, he was ready for new challenges. Together with three Grip colleagues, Price went to England. There, they continued their studies and founded the Carlton Studios. Still connected to the business, Price moved to Paris in 1909. About his time in that city where he studied at the Académie Julian, Price wrote, "The principal thing gained by me in Paris was a knowledge of how to distinguish and appreciate subtlety of color [sic]…" Work in Paris brought Price to the attention of American publishers and in 1911, he moved to New York to establish a Carlton Studios office there. But the work was unsatisfying: "There began to be too many tooth-paste and chewing-gum drawings to be made, rather than illustrations with any ideal tendencies, so I severed all connections with Carlton Illustrators and became a freelance in 1912." Price began to produce work for a variety of publications including: Liberty, Harper's, The Century, American, True, Cosmopolitan, Argosy, Collier's, MacLeans, Woman's Home Companion, and, as we see here, The Farmer's Advocate. His career continued until his death in 1951.