London Life Making Art Creating Community (MACC)
Posted on March 23, 2018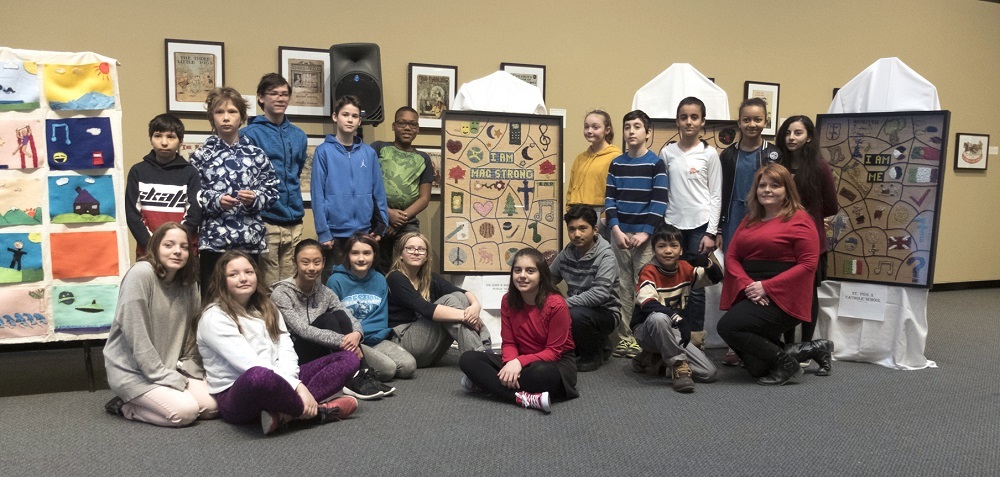 MACC participants with their community artwork to be displayed in their school.
Did you know that Museum London engages with 8,000+ students through our educational programming ever year? We just wrapped up our annual London Life Making Art Creating Community (MACC) program where students enjoy free hands-on art making classes and exhibition tours.
Every February, we invite elementary students from the London District Catholic School Board and the Thames Valley District School board to the Museum. Unlike a traditional school trip where students come for a single visit, the London Life MACC Program consists of three half-day visits to Museum London where students take part in hands-on studio projects taught by artists and also tour the exhibitions. For most of the students, this is their first visit to the Museum.
 How are we able to accomplish this large scale community engagement? With the help of our amazing Tour Guides and support from London Life!  As mentioned, students and the School Boards don't have to pay for any of these programs: art classes and tours are led by a practising artist (or professional arts educator) and volunteer Tour Guides, bussing and supplies are sponsored by London Life. This is the 16th year that London Life has generously sponsored this program that targets underserved schools. Museum London thanks London Life for their long-term continued support and our 30+ volunteers that donated their own time to introduce 150+ students to the arts this session.
We learned so many techniques and used so many new forms of art media. The MACC Program provides unique art opportunities and experiences that differ from the art lessons at school. The MACC Program also gave us all confidence as artists.
The goal of the MACC Program is to increase students' self-confidence and self-esteem through the discovery of their personal talents and creativity. The studio workshops are connected to school curriculum (arts, social studies & language) and inspired by Museum London's current exhibits; this year's main inspiration being our women-focused exhibition "Embodiment". Brenda Collins, our art educator, also integrated her Indigenous knowledge and teachings into the MACC program reflecting her own Metis background.
Over the course of a month, students worked with a variety of mediums including felt, beads, and built their own dioramas. Each class also worked together on a community artwork that will be displayed in their school.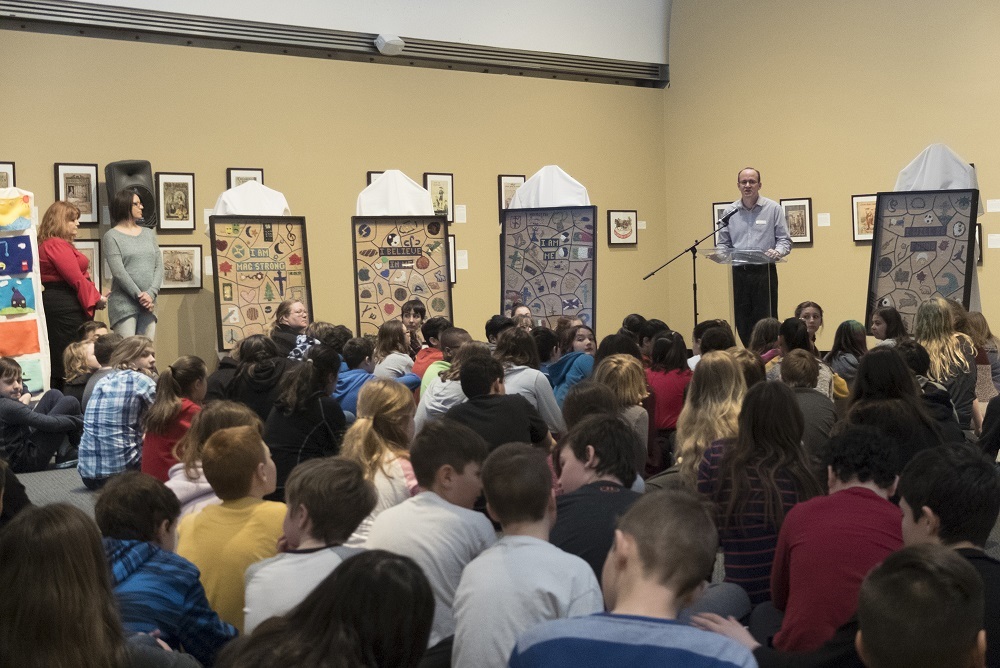 Student Reception
On Tuesday, March 6, we held a reception for all the students who participated in the MACC Program to celebrate their success. All the classes are invited back to the Museum and their artwork is put on display in the Community Gallery. The aim of showing the students' artwork (framed, mounted on easels, etc.) is to impart a sense of pride in seeing their work displayed in a museum setting. There is even a table of nibbles like you would find at any other opening reception. Most importantly, the students get to invite their parents to their first art exhibition! More than 250 students, teachers, family, and school officials came out to this year's reception.  Special guests included the Director of the Thames Valley District School Board, Laura Elliot.
Again, thanks to our amazing Tour Guides and the ongoing support from London Life.