Donor Profile: Paul van der Werf & Nadia Joseph
Posted on July 11, 2018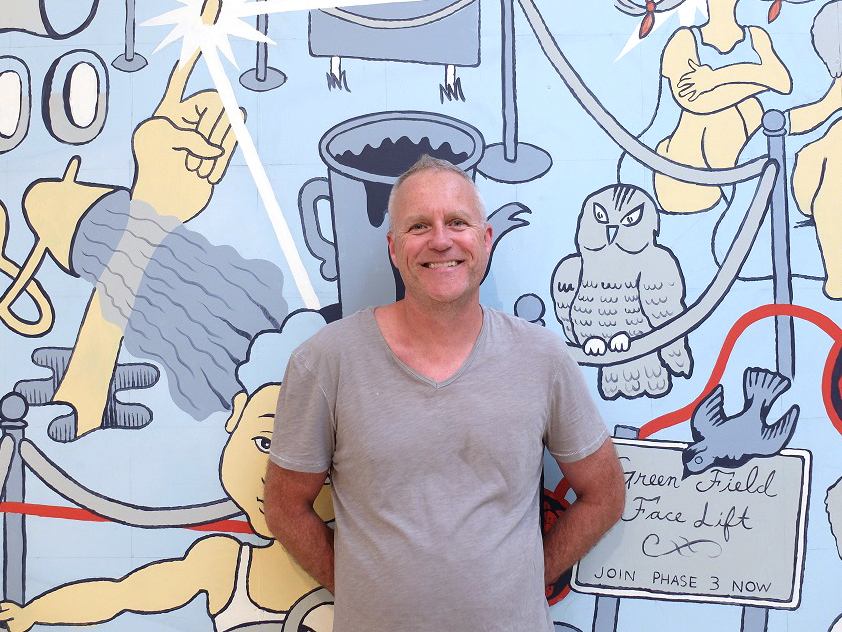 Paul van der Werf. Mural in background: Billy Bert Young, Mitosis at the Forks (detail), 2017
Paul van der Werf has been involved with Museum London for the past seven years and after completing a full term as Chair of the Operating Board, he has retired from this role to welcome Debra Majer as the new Chair. In between completing his Ph.D., running a few businesses, and his Museum board duties, Paul was able to discuss what first brought him to the Museum. As co-owners of 2cg, Paul and his wife Nadia Joseph have made a gracious donation to the Centre at the Forks, and we'd like to share their history with and vision for the future of Museum London.
Mitra Shreeram (Museum London): Thanks for taking the time to speak with me this morning. I'd really like to find out about the start of your involvement with Museum London.
Paul van der Werf: I got involved with the Museum seven years ago. I was asked to come onto the Foundation Board, acting as Vice Chair and eventually was asked to be on the Operating Board as well. What attracted me most about getting involved with the Museum was just my love for the arts, and to learn more about them. What made these boards very attractive to me was that they weren't related to my usual work. That's what made the experience much more enjoyable.
MS: And how long ago was it when you started to get interested in the arts?
PW: I have been interested in the arts since I was young. My uncle is an artist and that is what initially drew me in. I have always dabbled and about 20 years ago picked watercolours as my main medium. About ten years ago Nadia and I started collecting art. We initially focused on a few artists and then we started to focus on some local artists. Certainly, being a part of the Museum community exposes you to things that help you learn about what it is that you like and has helped me gain some skills about fine arts, which has helped me with my collecting. The thing that I've always really liked about the Operating Board is that the first half hour is an education piece and you're always going up to see an exhibit with a curator who talks about (the exhibition) a bit. I find that very fulfilling.
MS: We are one of the few museums that exist as both an art museum and a historical museum, how do you think those two sides work together?
PW: I actually think it works really well, it provides a unique aspect that a fine art museum or a historical museum doesn't really have on their own. You can have an exhibit of fine art that is related to a historical period and you have material culture to add context to what was going on in people's lives when they were creating these works of fine art.
MS: Specifically about the Centre at the Forks, what are your dreams and aspirations for it?
PW: For Centre at the Forks, you are literally banging a hole through a wall and opening up to the nicest part of the city, the Forks of the Thames. It will become 'London's living room', so to speak. I'm also excited that there's a central place for people to do things; art courses and all these things that are already taking place at the Museum. Going to look at fine art and material culture is a fairly passive activity, and it's great, you can learn a lot doing that, but it's also very fun and gratifying and satisfying making art one way or another. Whether that's a kids' school program or senior program or everything in between, the space will allow for all of that in a really aesthetically pleasing manner which enhances people's general enjoyment and ability to create. It's also very focal and central, you walk into the Museum and you see that right away. It literally, and perhaps figuratively, evokes the centrality of being able to be an active participant in the creation of art. The visitors become central to all of this.
MS: I think we're one of the few, if not the first, organization to have this beautiful, very purposefully built riverside view where you can be next to the Thames. I wonder how you think Londoners will respond to this, especially with respect to the Back to the River campaign.
PW: Londoners can't help but, I think, respond very favourably to it. The Museum's a very central piece of architecture that you see as you're coming into the city. It's a really central part of the city, although sometimes people don't know it's there, for whatever reason. What this does, it really opens it up a bit more from a prominent side where people pass all the time. They might now just see a building and understand that it's the Museum, but when they start to see the activity that's going on in that place, that provides them with the knowledge that "Hey, you know what? Here's a place where I can do stuff". In terms of Back to the River, this is a central hub to the project.
MS: Lastly, what do you most look forward to doing when the Centre at the Forks opens up? What's that first thing you are excited to start doing or to attend.
PW: I'd like come and take a class, preferably with my wife, who has already been taking classes there. I'd like to attend a performance or lecture, come check that out, and see if this project is going to work the way I think it will.