Christopher McNamara: Vivid Against the Little, Soft Cities
October 14 to February 11, 2024
Artist Christopher McNamara invites us into places of his own making. His excerpts of the human landscape—from chic mid-century suburbs to blighted downtowns and rustic railways—combine details from real places he's spent time in with elements drawn and distilled from personal memories, family lore, and popular culture. 
A native of Windsor, Ontario—a blue-collar city surrounded by agriculture—McNamara works across the border near Detroit, Michigan, America's powerhouse of auto manufacturing. Family ties connect him to the commercial and cultural hub of Chicago, which is the subject of the exhibition's title, a quote from a poem by American author Carl Sandburg. McNamara has also taken long sojourns through the entertainment metropolis of Los Angeles and tourist destinations of coastal England. He samples all of these sites throughout his multimedia practice. Kitbashed dioramas are central to McNamara's work, as are hand-made darkroom photographs and 19th-century stereoscopic setups. He composes his maquettes like establishing shots, the first scene in a film that provides an overview of the setting, and contrasts these traditional elements with contemporary digital processes.
The artist's marriage of old and new, the familiar with the illusory,  invites us to consider how our built environment, popular culture, and technology reflect economic realities and mark the history of human aspiration. His scenes are often devoid of people and feature roadways as thresholds separating the viewer from the scene. McNamara's vignettes become environs for the imagination, places we can project our own stories.
The artist acknowledges the support of the OAC through a Visual Arts Project Grant and Exhibition Assistance Grant

Image: Christopher McNamara, Sassy Cat Theatre, Woodward Avenue, Detroit, 2022. Mixed media. Courtesy of the Artist.
Artist bio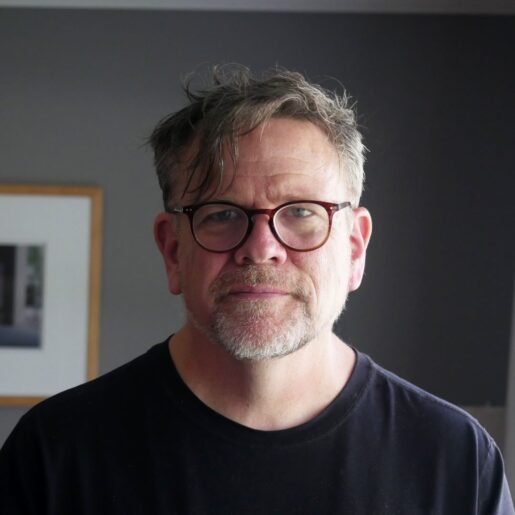 Christopher McNamara. Courtesy of Artist
Christopher McNamara is an award-winning artist who creates single channel digital works, sound and video installations, and performances. He has exhibited across Canada and in the United States, United Kingdom, Germany, Netherlands, and Switzerland. He has performed at international festivals including Mutek (Montreal), Spark (Minneapolis) and Detroit Electronic Music Festival (Detroit).